Homicide Survivors, Inc.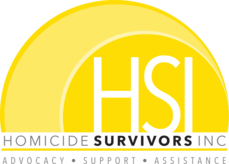 Homicide Survivors, Inc. is a nonprofit victim assistance organization dedicated to meeting the crisis and long term needs of families of murder victims. Through support, advocacy and assistance we help survivors cope emotionally, stabilize economically and seek justice for their loved ones. Homicide Survivors is committed to ensuring that no one has to endure the murder of a loved one alone. We can't change the tragic loss, but together, we can ease the pain and prevent further victimization.
Show All
More About Us
Homicide Survivors, Inc. provides support, advocacy and assistance to those who have lost a loved one to homicide both immediately following the death and for years afterwards - as long as they are interested in receiving services. Homicide Survivors has provided survivor services since 1982 at no charge to the families and loved ones of murder victims. Homicide Survivors provides services to over 1500 survivors of homicide every year. Please review our "Programs" tab above for more information about all of our services.
Address:
100 N. Stone Ave., Suite 807
Tucson, AZ 85701
GuideStar URL:
http://www.guidestar.org/profile/86-0889964
AZ State Tax Credit Info:
Charitable (Working Poor) Tax Credit
Alliance Member?:
No
Service Areas:
Santa Cruz, Pima, Pinal, Cochise