YOU Are A Champion
You have a passion: It could be for animal welfare, fighting poverty, supporting the arts, or raising awareness about mental illness. We bet you also have a wonderful network of friends and colleagues in your life.
Arizona Gives offers you a vehicle to connect your passion and your network by creating your own personal fundraiser to raise money for local nonprofits supporting your passion. As an individual fundraiser for your chosen nonprofit(s), you set the goal, you get the word out, and you become a champion for your cause.
BUSINESSES: You are welcome to create a fundraising page for a specific nonprofit too!
---
Creating Your Fundraiser Page
Follow the steps provided below to create your unique page. NOTE: Arizona Gives uses a technology platform called Neon One.
Step 1:
To create a fundraising page, start by logging in to your Donor profile. Click 'Create a Donor Profile' if you do not already have a profile associated with your email address.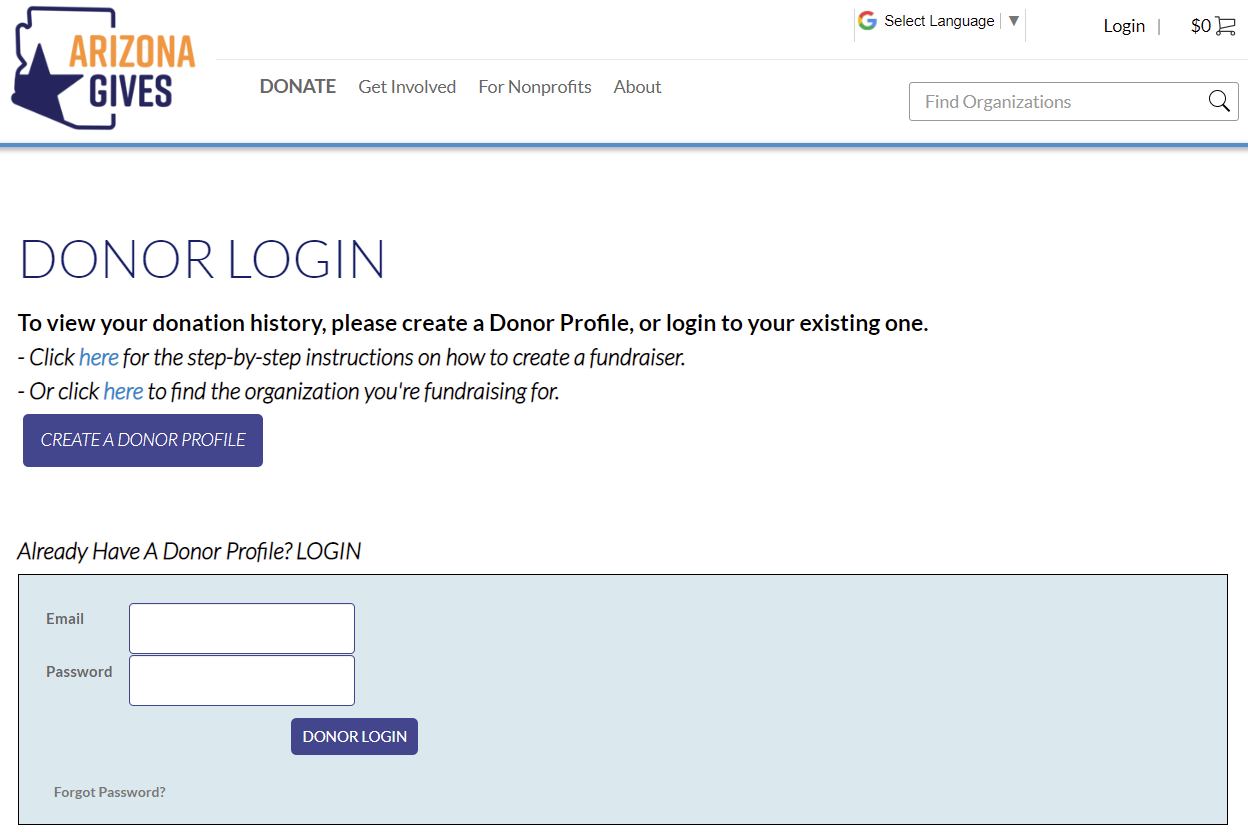 Step 2:
Search for your chosen nonprofit from either the Arizona Gives home page search or by Browsing Nonprofits. Once you find the nonprofit's tile, click on its logo or 'Learn More' in the lower right corner of the tile (see below).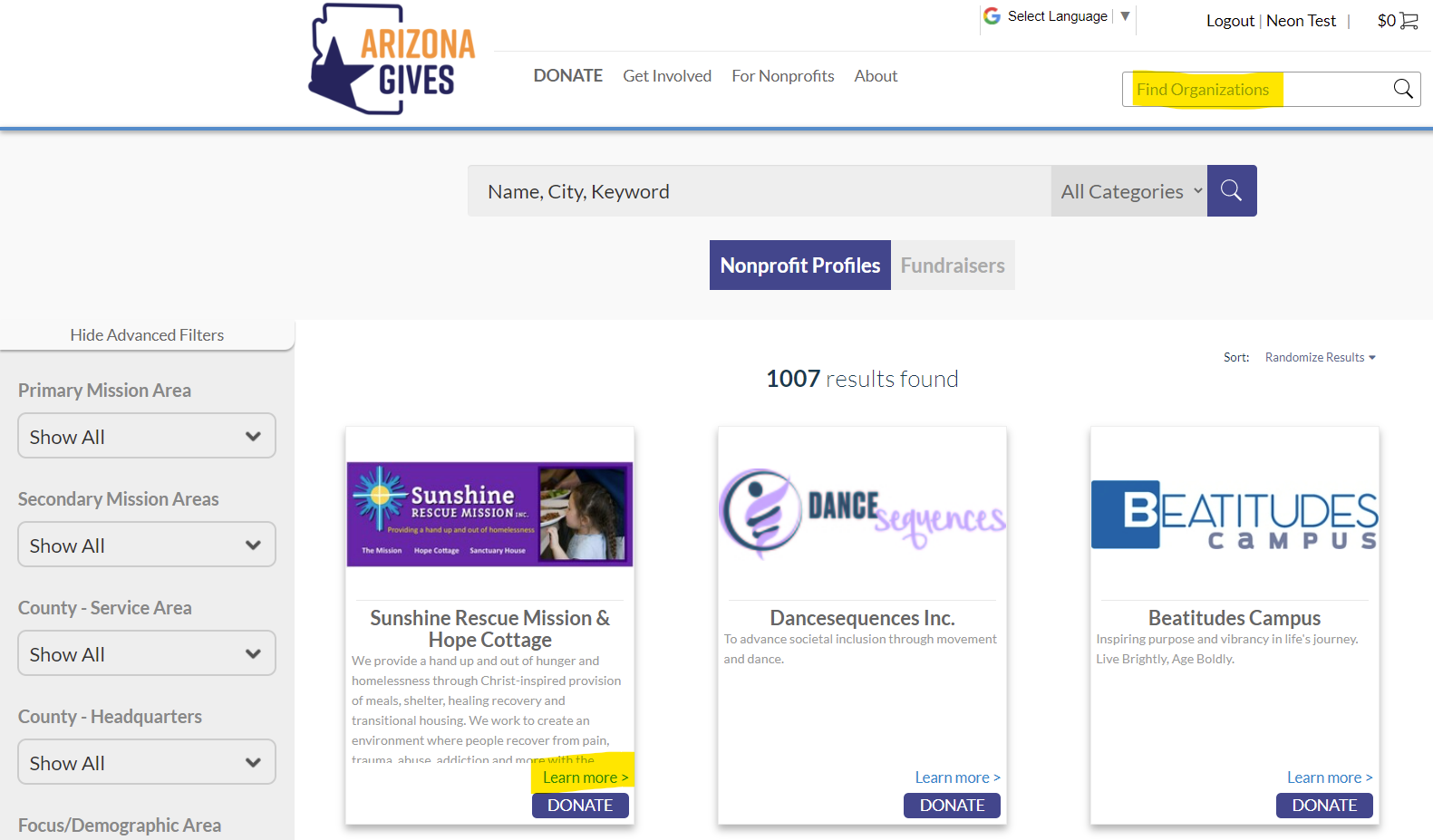 Step 3:
Next, you will see your chosen nonprofit's profile page. Now click the 'Create A Fundraiser' button.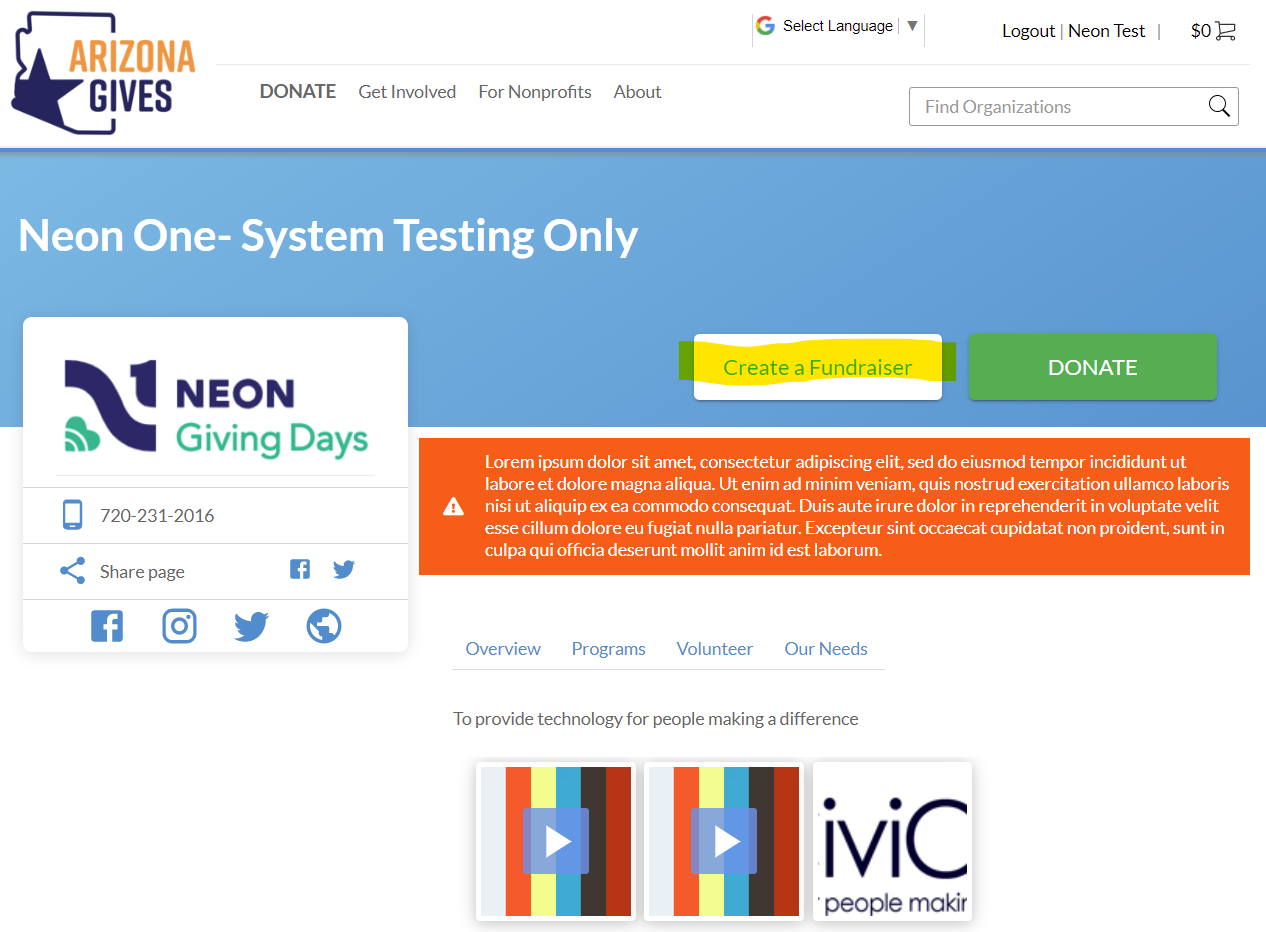 Step 4:
You will be redirected to a page to create your fundraiser. Simply fill out the fields on the left side of the screen to describe your fundraising campaign, including your goal. If you would like to add your own 'hero image', please make sure the uploaded image is:
a jpg. or .png file

no larger than 680x385

and no larger than 1 MB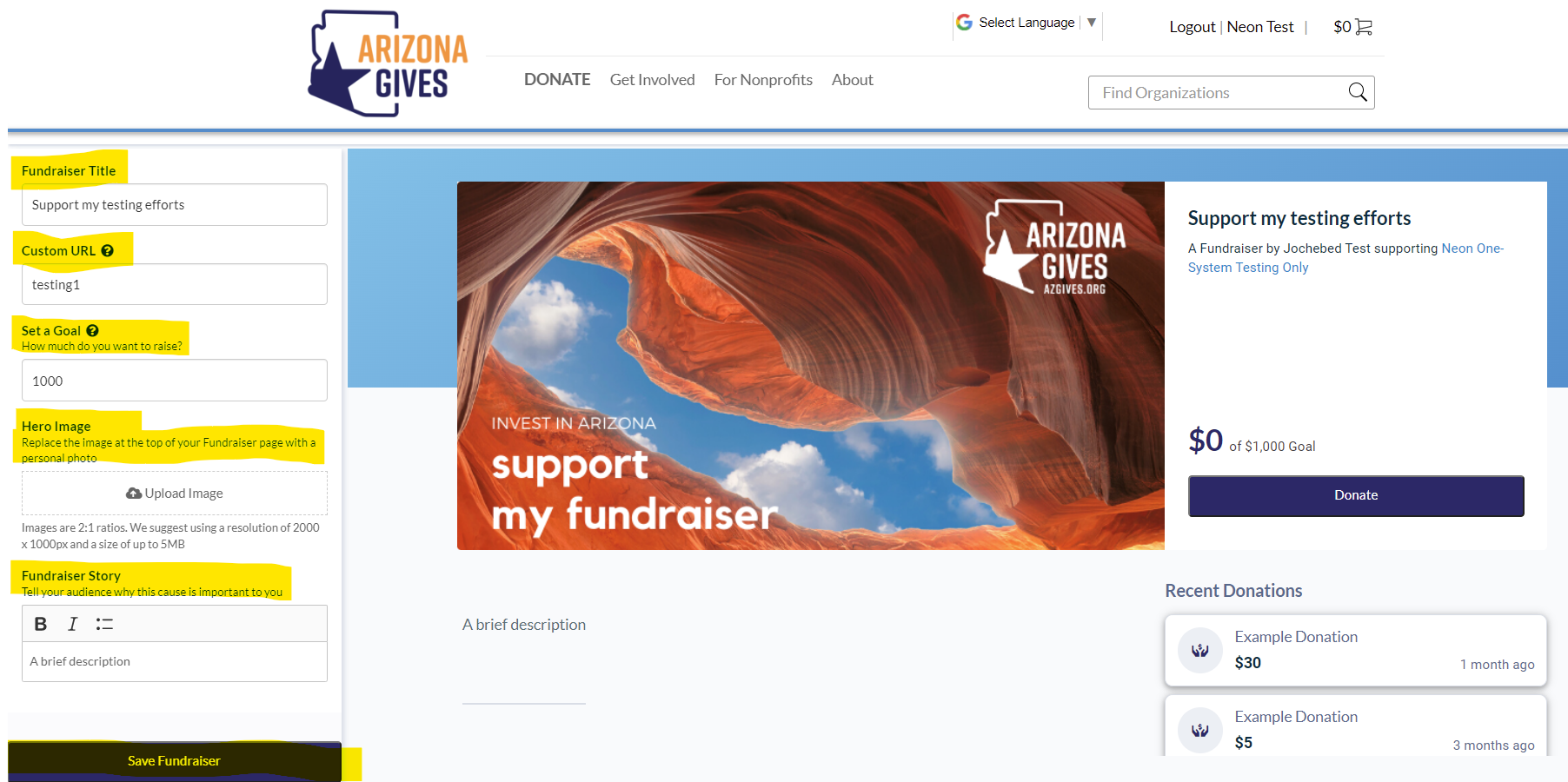 While entering your fundraising campaign details, the right side of the page will simultaneously display exactly how it will look online. For example, if you upload a photo, you will instantly see how it will appear on the website.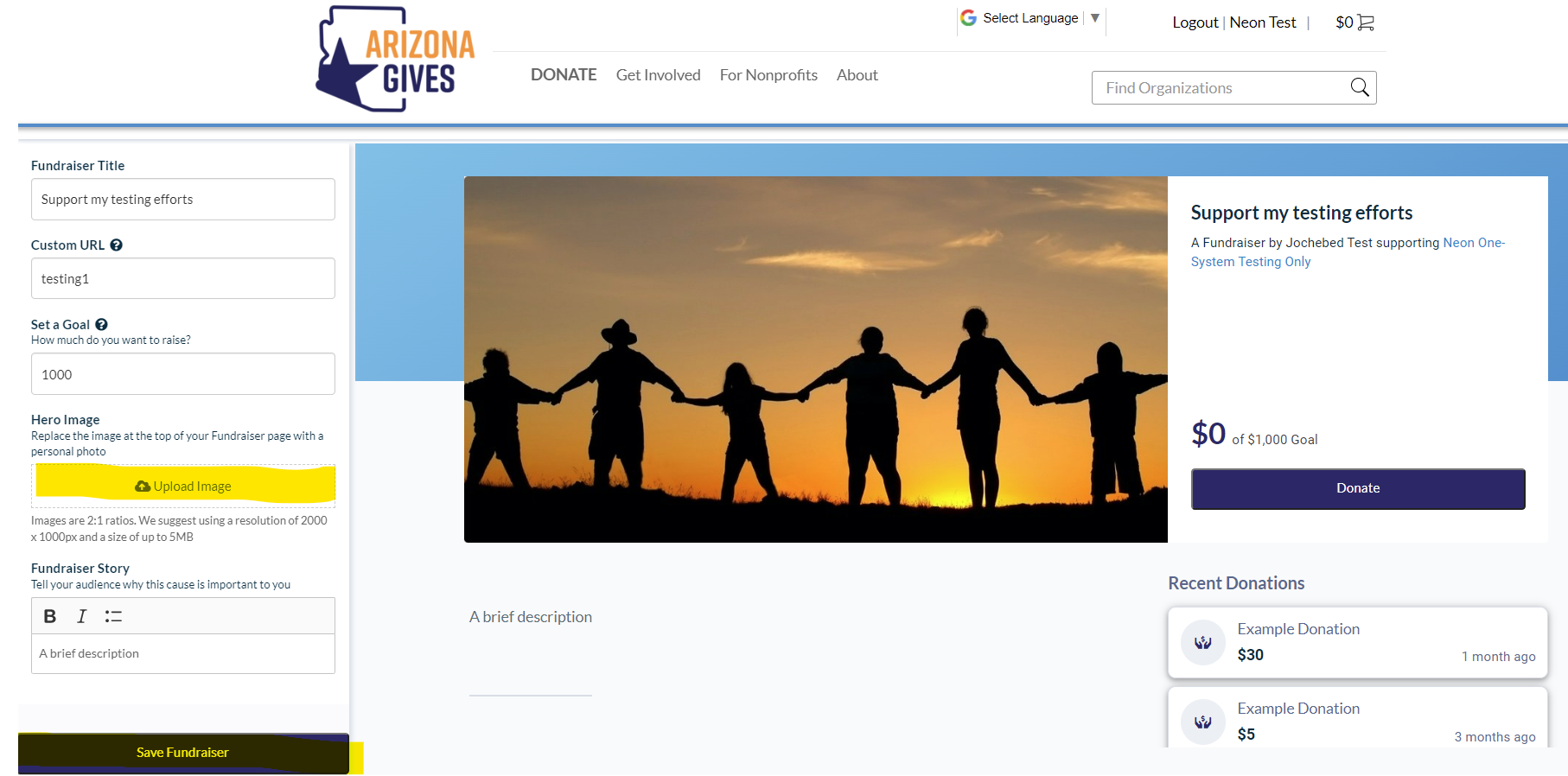 Have fun completing your page, because the story of why you're so passionate about this cause will inspire your friends to be part of this awesome work in your community.
Step 5:
Once you've completed all fields for your fundraising page, click 'Save Fundraiser'. You will be able to return to your fundraising page later to view, edit, copy and unpublish it as needed.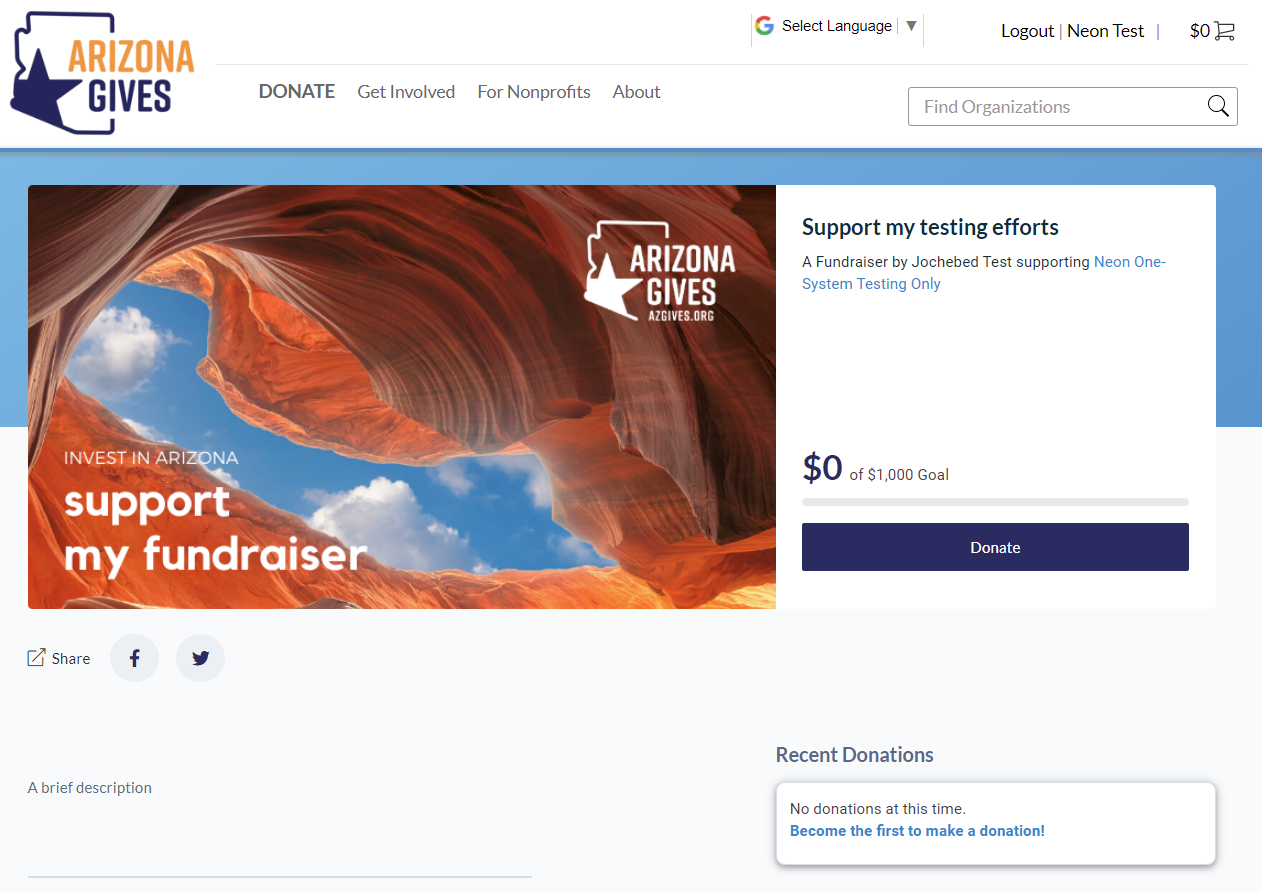 Get Started Now and Find Your Nonprofit!
---
Accessing and Promoting Your Fundraiser Page
Access Your Donor Account:
At any time, you may return to your Arizona Gives donor account to view, edit, copy and unpublish your fundraising page; or create additional fundraising pages.
Promote Your Fundraiser:
Share your excitement! Anything raised between early giving and Arizona Gives Day will automatically be tied to the organization's total giving and count towards incentive prizes.
If you clicked 'Save Fundraiser' upon completing your fundraising page, an email will have been sent to you containing your fundraising page URL. Copy and paste this URL into emails and social media posts and share your story/passion to encourage friends, family, and colleagues to donate! (You can also find on AZGives.org by searching under Donate > Browse Fundraisers)
---
Support
We hope you'll join us in supporting the nonprofit sector and community by creating a successful Arizona Gives Day 2023. It's easy and fun!
Stuck? Confused? You can send an email to azgives@arizonanonprofits.org for more information.