Sedona Community Food Bank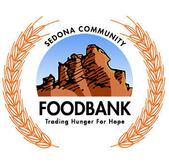 The Sedona Community Food Bank is a community supported, volunteer-based 501(c)3 organization that provides food to people in Sedona, Village of Oak Creek, Page Springs, and Cornville.
Show All
Matching Grants
No
More About Us
The Sedona Community Food Bank distributes to people in need on Wednesdays 8:30 - 12:00 PM and 4:00 - 6:00 PM. Presently, we are assisting over 165 families weekly. Our weekly Weekend Emergency Foodpack Program serves 122 qualifying elementary students from West Sedona Elementary School. These students would otherwise go hungry over the weekend until they return to school for their free/reduced breakfast and lunch. One of the most forgotten and fragile population is the home bound seniors. We deliver a box monthly of shelf stable food along with dairy, fresh produce, and bakery to their home. Finally, the Sedona Community Food Bank supports many community organizations weekly. Such as the Sedona Community Center, the Monday Night Community Supper, other local food banks, and the Elk's Club.
Address:
P.O. Box 3962
Sedona, AZ 86340
AZ State Tax Credit Info:
Charitable (Working Poor) Tax Credit
Alliance Member?:
No
Service Areas:
Yavapai
Written from one of our clients last week. "Love is all around-workers at the Sedona Food Bank allow us to feel it. Thank you, Nancy"