Our Neighbors Farm and Pantry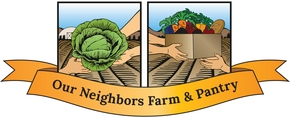 The mission of Our Neighbors Farm & Pantry is to end hunger in the communities we serve through food distribution, education, and advocacy.
Show All
More About Us
IMAGINE A VISIT TO OUR NEIGHBORS FARM & PANTRY.

IN THE GARDEN you might see third grade students planting seeds, Cub Scouts transplanting corn, home schooled teens helping to build a hoop house or senior citizens bringing fresh kale from the garden into the pantry.

AT THE GROCERY STORES you will find faithful volunteers who pick up donations that they will sort through and prepare for distribution at the pantry.

AT THE PANTRY on Tuesdays and Thursdays you will see people chatting at picnic tables while waiting their turn to go into the pantry. If you step inside you will see volunteers welcoming neighbors who are going through a rough time and are in need of a helping hand. One customer will be selecting breads, while others are deciding which of the garden veggies to try or what fruits to put in their bag. Near the door, yet another volunteer puts their selections into a cart and helps them out to their car.

MEANWHILE, BACK AT THE GARDEN you may see what is growing in the greenhouse, which crops are ready to harvest, or where you might go to do a bit of weeding. Or you might find volunteers loading up the van with garden veggies to share with the Safe House or Meals on Wheels.

AT THE HIGH SCHOOL teachers have students who are hungry and report that there was no food at home to have for breakfast. ONF&P will help supply the shelves of the Bulldog Pantry.

OUT AT THE CACTUS HOUSE there is housing for interns and volunteers. The AmeriCorps members will be planning their work for the next day at one of the nonprofit organizations they have come to serve.

YOU can make a REAL DIFFERENCE! Donate today! Be a part of the team that is making our community a kinder, gentler place to live.

.

Address:
1020 S. 10th Ave
Safford, AZ 85546
AZ State Tax Credit Info:
No Arizona Tax Credit
Alliance Member?:
Yes
Service Areas:
Greenlee, Graham
Driving down 10th Street on a beautiful Sunday evening, we spied a glorious garden taking shape. My husband exclaimed, "Oh look, let's stop and ask the people working here what they are doing." The gardeners stopped pulling weeds to greet us. We learned about the important mission of the farm and pantry. We have since pulled a few weeds, laid a few pavers , and now, five years later this project has out complete support and admiration. The Farm & Pantry is an amazing oasis in the desert, bringing healthy food to the hungry, gardening knowledge to the children, and plenty of support to the amateur gardener. It is a coalition of people who share in the spirit of making this world more beautiful, less hungry, and more productive. Take a drive down 10th Street. If you are lucky you will see sweet peas swaying in the breeze or a volunteer bringing in a beautiful basket of greens for the pantry. If you are REAL lucky, you will hear the laughter of children in the garden and see how thy have fun, learn and help make our community a better place to live. Jeanine Munguia, Phoenix