Tucson Cold Wet Noses Fosters, Inc.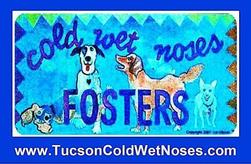 Tucson Cold Wet Noses is a 501c3 non-profit rescue and adoption organization founded by a group of local dog lovers in 2006. We are dedicated to rescuing senior, medically challenged and hospice dogs from Arizona shelters and finding their perfect homes, either through successful adoptions or long term hospice foster homes.
Show All
More About Us
All of our dogs live inside, with outside access for play and business. We do not allow our dogs to be adopted out as "yard dogs".

Tucson Cold Wet Noses ensures that all adoptable dogs are already spayed or neutered, up to date on vaccines, micro chipped and, if applicable, will come with a health history. A majority of our dogs are seniors and/or have special needs. Special needs could mean a dog has diabetes, allergies, seizures, valley fever, heart murmur, etc. We work closely with our veterinarians to make sure our dogs are as healthy as can be. We thank Broadway Animal Hospital, ABC of Tucson, St Mary's Animal Clinic, Camino Seco Pet Clinic, PAWS Veterinary Center and Dr. Figueroa for their assistance.

Tucson Cold Wet Noses pays all of our dogs' medical bills through our adoption fees and donations. Our adoption fee is $150, with an additional $11 or $19 licensing fee (depending on which shelter the dog came from). We provide a 7 day trial period with each adoption. If for any reason and at any time an adopter is unable to keep the dog, they are to return the dog to Tucson Cold Wet Noses. We never want one of our dogs to end up back in a shelter.

We are confident that the perfect home can be found for each of our dogs. If you are thinking of adding a new family member, please have a look at our website, we have some really great dogs! However, if you would like to make a donation or help by fostering, we thank you for being a part of our mission too.

By fostering rescue dogs in our homes, the fosters of Tucson Cold Wet Noses get to know each dog's personality, likes, dislikes and little quirks. We won't send a cat chaser home with you, if you have 10 cats, or an ankle biter home, if you babysit your grandchildren every day. Fostering our rescue dogs helps to ensure a successful adoption based on your lifestyle and situation. A successful adoption is a perfect match for both the new family and the dog.

A senior rescue dog is often the perfect low maintenance companion, especially for a senior person. Adopting a senior pet can be immensely satisfying. They have just as much love to give as a younger dog, but with better manners and moderate energy. Many of these dogs are purebred and originally came from a pet store or an irresponsible backyard breeder. Most puppy mills and backyard breeders who sell to pet stores or via the internet think of their dogs as disposable. If the dogs are lucky, they will be sent to a rescue, such as Tucson Cold Wet Noses, when they are done being used. The adoption of one of these dogs can be a truly rewarding experience.

We at Tucson Cold Wet Noses can't do it without you!
Address:
7138 N Perugia Way
Tucson, AZ 85741
AZ State Tax Credit Info:
No Arizona Tax Credit
Alliance Member?:
No
Service Areas:
Pima, Pinal, Maricopa