Southwest Wildlife Conservation Center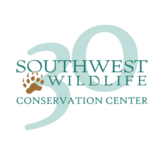 SAVING OUR WILDLIFE, ONE LIFE AT A TIME. SWCC rescues, rehabilitates and releases native wildlife. We provide a sanctuary home for animals that cannot return to the wild. Wildlife education includes living with wildlife.
Show All
More About Us
WHO WE ARE:

Southwest Wildlife Conservation Center (SWCC) has been saving lives, one wild life at a time, for more than 20 years.

WHAT WE DO:

WILDLIFE REHABILITATION:
SWCC rescues native wild animals that have lost their homes to development, or are found injured, orphaned, or abandoned. When possible, the animals in our care are rehabilitated and released - healthy and wild - back where they belong.

ACCREDITED SANCTUARY:
Those animals that could not survive in the wild can live out their lives at our accredited sanctuary. We don't buy, breed, sell or trade animals, nor are the animals for hire or used for commercial purposes.

ENDANGERED SPECIES:
SWCC is proud of its contribution to the recovery of an endangered species - the Mexican gray wolf. As a holding facility, we offer space at our sanctuary to care for part of the captive population of this rare wolf, and participate as a member of the Mexican Wolf Species Survival Plan (SSP).

EDUCATION:
We share our knowledge and passion about animals through education. We hope not only to educate, but also to inspire people to learn about and respect our wildlife and conserve its habitat.

Southwest Wildlife Conservation Center is a 501(c)(3) nonprofit organization which is run by a handful of staff and many dedicated volunteers. We are funded solely through private donations, fundraising and grants.

Address:
8711 E Pinnacle Peak Rd PMB 115
Scottsdale, AZ 85255
GuideStar URL:
http://www.guidestar.org
AZ State Tax Credit Info:
No Arizona Tax Credit
Alliance Member?:
Yes
Service Areas:
Maricopa