Save the Cats Arizona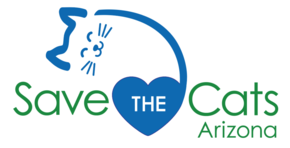 Save the Cats Arizona's mission is to provide a second chance at a happy life for felines who are at risk from an unhealthy environment or harm at the hand of humans. 
Show All
More About Us
Save the Cats Arizona is a rescue and sanctuary committed to a no-kill philosophy. We believe that cats are sentient, feeling beings who deserve our respect and kindness. While dedicated to providing a lifetime of health, safety, and happiness to cats living in our sanctuary, we also strive to find solutions for at-risk cats we cannot take in due to limited space. We are an all-volunteer, 501(c)3 organization, so 100% of all donations go to the cats.
Address:
1225 W Royal Palms Ct
Gilbert, AZ 85233
AZ State Tax Credit Info:
No Arizona Tax Credit
Alliance Member?:
No
Service Areas:
Maricopa
"This group is so passionate about these cats. Each and every cat gets the care they deserve. Thanks STCAZ for taking care of so many kitties! They deserve all the love in the world!" - Holly D.

"Thank goodness for STCAZ and all their supporters for caring so deeply about…all kitties that need love and care." - Sandy B.

"TO ME, NOTHING IS MORE IMPORTANT THAN WHAT YOU DO." - JACQUELINE N.

"There are very few rescues that can help feral cats/community cats, Thanks for all you do!" -Pamela H.

"My family adopted a wonderful cat from STCAZ, and we are so happy- love him so much! Thank you for saving him!" Schneider Family