Mobile Meals of Southern Arizona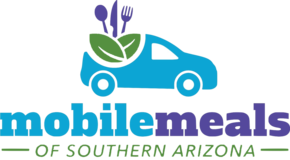 To preserve the health, dignity, and independence of homebound adults by providing home-delivered, special-diet meals and daily contact with a caring volunteer.
Show All
Matching Grants
No
More About Us
Since 1970, Mobile Meals of Southern Arizona has helped homebound seniors and adults with disabilities to continue living independently in their own homes by delivering two doctor-prescribed, diet-specific meals five days a week. Mobile Meals delivers nearly 100,000 meals every year to vulnerable and isolated adults each day in Tucson and across Southern Arizona. Almost as important as the meals we delivery are the friendly faces of the volunteers who deliver them. For many of our clients, our volunteers are the only human contact they have each week. The work we do improves both the physical and mental health of those we serve and also helps them to avoid the high financial and emotion costs of nursing home or assisted living care.

Mobile Meals staff coordinate with 10 healthcare facilities and hundreds of physicians in Pima County to make sure the meals we deliver meet our clients' needs. Whether they need a diabetic, cardiac, or soft food diet, we deliver! We also recruit, train, and manage over 300 dedicated volunteers, who serve as volunteer delivery drivers, paperwork liaisons, schedulers, client interviewers, and office support. More than 30,000 hours of service are donated each year by Mobile Meals volunteers!

100% of the funds raised on Arizona Gives Day provide meals for your Southern Arizona neighbors most in need of healthy food and companionship!
Address:
4803 E. 5th Street, Suite 209
Tucson, AZ 85711
GuideStar URL:
http://www.guidestar.org/profile/23-7157579
AZ State Tax Credit Info:
Charitable (Working Poor) Tax Credit
Alliance Member?:
Yes
Service Areas:
Pima
In a recent survey, Mobile Meals of Southern Arizona clients shared that:
- 100% reported that meal delivery allows them to live independently.
- 98% believe that meal delivery has helped them maintain or improve their health.
- 94% feel more secure knowing a driver will be checking on them 5 days a week.

"Mobile Meals has been a wonderful support for me, has fed me when I had no food, and how it fosters a sense of community, especially for we who are almost always confined to the house. Allowing the same drivers to stay on the routes over the long-term and fosters the building of long-term relationships." Walter, Mobile Meals client since 2013

"Mobile Meals means the world to me. It's been a real lifesaver." Carl S., Mobile Meals client since 2014, and Korean War Veteran