Make Way for Books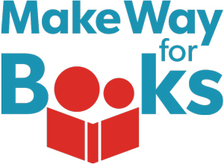 The mission of Make Way for Books is to give all children the chance to read and succeed.
Show All
Matching Grants
Yes
Matching Grants Amount
$2,500.00
More About Us
Today Comcast will be donating an additional $2,500 to Make Way for Books when we reach $10,000 in gifts! THANK YOU COMCAST!

Make Way for Books is an innovative 501c3 early literacy nonprofit organization in Tucson, Arizona. Established in 1998, Make Way for Books' mission is to give all children the chance to read and succeed. Make Way for Books works to empower economically-disadvantaged young children with the emergent literacy and language skills they need to thrive in the classroom and throughout life by reaching them with meaningful early literacy experiences before they enter kindergarten. Over the past 20 years, Make Way for Books has demonstrated high impact in empowering parents, supporting educators, and increasing young children's emergent literacy and language skills and overall kindergarten readiness. We provide three main strands of early literacy programming to meet the diverse needs of young children and families throughout southern Arizona. The Story Project provides a comprehensive continuum of programming, resources, and services that reach young children at under-resourced preschools and childcare centers. To reach the high number of children who do not have access to preschool or childcare, Make Way for Books' Family Literacy and Community-based programs provide early literacy resources and programming for young children and families by meeting them at high-need locations throughout our community, including low-income apartments, community food banks, low-cost grocery stores, social services offices, and other locations where families spend their time. Each year, Make Way for Books impacts 30,000 young children and their families as well as more than 700 educators.

THE FIRST FIVE YEARS
Research indicates that what happens before age 5 impacts everything. In fact, 90% of children's brain development happens by age 5, with 82% of neural connections formed by age three. Literacy and language experiences in the first three years of life wire the brain for success. These experiences are directly related to children's future outcomes in all areas of learning, including reading, writing, math, and even approaches to learning. In fact, the latest science indicates that children's language and cognitive development by age 3 impacts their school readiness, IQ, and future academic attainment.

THE GROWING NEED IN OUR COMMUNITY
Unfortunately, for 1 in 3 children in Tucson, poverty will shape their lifelong success before they even enter kindergarten. Language disparities among children in poverty become apparent before their first birthday. By age 2, the learning gap more than triples. By age three, children from homes in poverty have heard 30 million fewer words than their more privileged peers. As a result, children from low-income homes typically enter school 1-2 years behind in language and pre-reading skills.1 When children begin school behind, they rarely catch up. Children who are struggling readers in 1st grade are 88% more likely to be struggling readers in 4th grade. In 2015, 62% of low-income children failed the AZMerit third-grade reading assessment. As below-grade-level readers in third grade, children are 4 times more likely to drop out of high school. There is a literacy crisis in our community.

Monique shared with us that money was tight and she was looking for support when she joined us for Cover to Cover for the first time with her three daughters.

Monique said, "You inspired me to improve myself to be a better mom to my kids. To see your impact on my kids - to make them want to read and hear stories - it made me want to try harder. I never knew that most of my child's brain grew by age 5. I finally realized how important it was!"

Today, Monique's daughters are thriving readers. In fact, they're at a higher reading level than most of the children in their classes.

Monique also shared, "My three girls found their own confidence through the program. They say to me, I can read this. I can understand! I know that starting early will help them go further in school and life. And I'm already thinking about getting my girls into college."