Interfaith Community Services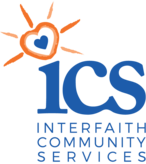 Our mission is to help people in need achieve stable, healthy and independent lives.
Show All
Matching Grants
No
More About Us
Last year, ICS served nearly 41,000 people in Pima County. From a nutritious meal for a low-income senior or family in financial distress, to job counseling that helps an out-of-work breadwinner regain sustainable employment. From rides to the doctor's office, to assistance with mail, bills or small home repairs for clients who can no longer see or achieve mobility, ICS meets essential needs in very practical ways.

Our Vision For Those We Serve:
Seniors and disabled individuals will have transportation, meals and caregiving services available to them in order to remain independent in their homes.
People in financial crisis will have a compassionate place to turn for vital services that help stabilize their housing, employment, food, and healthcare situations.
The community at large will gain better access to community resources, social support, education, and information to make informed decisions.
Volunteers, faith communities and supporters will have a place to serve their neighbors in need
"I am so grateful for your help and your cheerful attitude! Not once did you accuse or berate me. Your kind understanding of my embarrassment enabled me to feel a small portion of dignity. I pray that whatever you put your hand to will be blessed!" ~ Rachel G.

"You were the only agency out of the 15 I tried who responded to my need when I was released from prison." ~Tommy H.

"I'm new to ICS and this was the first week I used the service. One volunteer went to the doctor with me and one helped me shop. I want you to know that I've never been so wonderfully treated in my life! Both were good drivers and I was amazed at how patient, loving and calm they were with me. Being with them was almost like family." ~Carol R.