The Hopi Foundation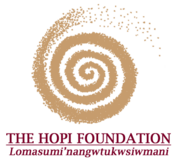 Our mission is outlined in our name "Lomasumi'nangwtukwsiwmani" and signifies a community process of furthering unity of aspiration which blossoms into full maturity over time. The Hopi Foundation has acted on this vision of self-sufficiency, self-reliance and local self-determination to engage in proactive participation toward our own destiny as a community. Locally, we refer to this practice as "itam naapyani", meaning to do the work ourselves.
Show All
More About Us
As an organization we've adopted "Strengthening Communities through Collaborative Actions" as a way to promote this mission for our work in the community. The Hopi Foundation sees its role and strength as a facilitator in building the skills, the community and the systems that sustain the bridge between traditional Hopi values and modern community development.

Since its inception, the Foundation has initiated innovative approaches to enhance and preserve the Hopi traditional way of life, while at the same time, meeting the challenges of a modern and increasingly technological era.

The Foundation team with the help of the Hopi communities has developed and implemented several projects including the development of technical training tools for clan home restoration, a Solar Electric Enterprise established to bring vital electric power to rural homes and village residents, a Center for the Prevention and Resolution of Violence was established to provide treatment for individuals and families in Tucson, AZ to help reconstruct lives traumatized by violence, micro-enterprise Gentle Rain Designs producing apparel from recycled plastic pop bottles, and Hopi language preservation projects through the Literacy Development Project-an outgrowth of the Hopi Language Dictionary published in 1998 to maintain and enhance the vitality of the Hopi language in the community, and the Beginnurz Hoyam and Three Mesas Productions-projects initiated by alumni of the Hopi Leadership program both focused on language development and competency among both youth and adult/parent learners.

Our Current Projects
* Capacity Building Services: Provides training and technical support in strategic planning, board development, and fundraising. This program has served over 30 local nonprofits, various tribal agencies and Hopi villages to date;

* The Hopi Leadership Program: To provide leadership development by building leadership skills to help local leaders grow, expand, and survive transitions in leadership and build sustainable operations to more effectively provide resources and services to the Hopi community. The program has graduated 47 individuals since 2006;

* KUYI 88.1 FM: KUYI is a public broadcasting station for the entire Hopi reservation providing vitalemergency response communication, educational, news and cultural programming to our listeners. The radio serves approximately 116,000 listeners within a 100 mile radius including Flagstaff, Winslow and surrounding Navajo communities. Since we launched online streaming, our programming now has a global reach;

* The Natwani Coalition: The Coalition is a collaboration between multiple Hopi organizations dedicated to the preservation and restoration of traditional Hopi food system and farming practices. Since its creation in 2004, the partnership provides service to over 2,500 local farmers, seed-savers, cultural knowledge-keepers and youth;

* The Hopi Substance Abuse Prevention Center: Created by local Hopi recovered substance abusers to increase the availability of mentoring and educational services to the Center's clientele and their family members. The program reaches 1,100 clients annually through outreach, educational workshops, one-on-one mentoring and group support;

* The Hopi Opportunity Youth Initiative: The Hopi Opportunity Youth Initiative focuses on our community's most at-risk youth between the ages of 14 to 26 who are not actively engaged in school or in the workforce. The goal of the Initiative is to bring together community members and organizations that will promote positive change and explore opportunities to help strengthen support for 1,787 Hopi and Tewa youth between the ages of 14 and 26 living on and off the reservation;

* Hopi VITA Partnership: The Hopi Foundation partners with local agencies to host VITA (Volunteer Income Tax Assistance) services to low-income families in the 12 Hopi villages and
surrounding communities. Our most recent program served over 200 families in 2015;

* Youth Cultural Preservation Internship: Provides partnership with a National Park Service in Hovenweep, Utah and the Utah Cedars State Park to teach preservation and documentation techniques to our Hopi Youth. This project is a seasonal project that has served over 60 youth since 1996;

* The Barbara Chester Award: In honor of the life and work of Dr. Barbara Chester, The Hopi Foundation established the Barbara Chester Award for outstanding clinicians and practitioners who treat victims of torture, their families and communities. The award honors the worthy persons who undertake the difficult and often dangerous work of providing healing services in circumstances of torture. Through this award we share the story of our Awardees in local, national and global media to help draw worldwide support for the prevention of torture and trauma. Since the first award in 2000, this program has honored 6 awardees from Zimbabwe, Honduras, Turkey, Rwanda, and the U.S.

* Community Grantmaking: To increasing self-sufficiency and expand access to opportunities in the local community through grants to individuals and organizations. Areas of funding include cultural history and language preservation, arts, community leadership training, agricultural restoration, and economic development.