Fearless Kitty Rescue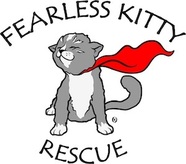 Fearless Kitty Rescue is a non-profit, no-kill, volunteer cat rescue organization serving our immediate community, Fountain Hills, and the greater Phoenix, AZ area. We are dedicated to rescuing cats left homeless for whatever reason - cats in public shelters where they are at high risk of euthanasia due to pet overpopulation, abandoned and homeless strays, cats given up by their owners because of difficult circumstances, and those in danger of abuse or neglect.
Show All
More About Us
We provide education and information to our community on responsible pet ownership, including the importance of spay/neuter, positive behavior training, and good nutrition.
All cats in our care are spayed or neutered, vaccinated, tested for FIV/FeLV, microchipped and receive all appropriate veterinary care and treatment by our dedicated private practice veterinarian. Upon arrival at our rescue center, Kittyville, our kitties are cared for by our volunteers while they wait for their forever home.
We keep administrative expenses extremely low so that nearly every dollar goes directly to the care of our kitties. We remain interested in and committed to the welfare of the cat beyond the adoption process. Our adopted cats are always welcomed back to the rescue if their owner is no longer able to care for them, no matter what the reason.
As a 501(c)(3), Fearless Kitty Rescue relies solely on donations and the generous time of its volunteers.
Address:
16832 E. Avenue of the Fountains
Fountain Hills, AZ 85268
AZ State Tax Credit Info:
No Arizona Tax Credit
Alliance Member?:
Yes
Service Areas:
Maricopa