Equine Voices Rescue & Sanctuary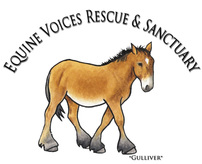 We are dedicated to saving Premarin (PMU) mares and foals from neglect, abuse and slaughter. Equine Voices Rescue & Sanctuary is a voice for all horses and other equines who cannot speak for themselves and works to end their senseless abuse, suffering and slaughter.
Show All
Matching Grants
No
More About Us
We have an enviable volunteer program and we have been approached by other non-profits to share it with them. Our equine sponsorship program helps us to raise the necessary funds to help us care for and feed our equines. Our adoption program is also very successful.
Address:
PO Box 1685
Green Valley, AZ 85622
GuideStar URL:
http://www.guidestar.com/equinevoices
AZ State Tax Credit Info:
No Arizona Tax Credit
Alliance Member?:
No
Service Areas:
Pima