Community Food Bank of Southern Arizona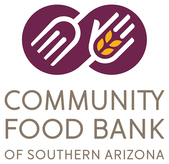 The Community Food Bank of Southern Arizona responds to the root causes of hunger and seeks to restore dignity, health, opportunity and hope to people living in poverty. Our mission is to change lives in the communities we serve by feeding the hungry today, and building a healthy, hunger-free tomorrow.
Show All
Matching Grants
No
More About Us
Our Approach
We Partner - We distribute fresh produce and non-perishable food to a vast network of community partners throughout the state and across the country. We collaborate with local agencies, health institutions and government to revitalize neighborhoods and build a stronger food economy.

We Support - Recognizing food is just the beginning, we provide nutrition education, offer garden workshops, teach culinary skills and help low-income food entrepreneurs with funding and business development planning.

We Advocate - We provide training, leadership development and civic engagement opportunities to empower individuals to make real and lasting changes that affect their health and well-being. We promote sound policies and practices that help lift people out of poverty and strengthen our food system.

We Convene - We convene leaders from local and national organizations to share best practices, discuss critical issues related to hunger and launch actionable plans and partnerships to end hunger and cultivate a more just food system.