Beads of Courage, Inc.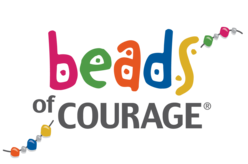 The mission of Beads of Courage is to provide innovative arts-in-medicine programs that improve the quality of life for children coping with serious illness, their families and the clinicians who care for them. Our vision is to transform the treatment experience for children coping with cancer and other serious acute and chronic illnesses by advancing the science of caring.
Show All
More About Us
Beads of Courage is an Arizona-based children's charity providing innovative arts-in-medicine supportive care programs for children coping with cancer, congenital heart defects, and other life-altering illnesses and conditions. The first Beads of Courage program was piloted at Phoenix Children's Hospital and our headquarters is in Tucson. The Beads of Courage core program helps more than 60,000 children in the US and internationally to record, tell and own their stories of courage, using colorful beads as meaningful symbols of each child's unique treatment journey. Every bead a child receives tells a story of courage, honor and hope. Ongoing evaluation of the Beads of Courage program indicates that the program helps to decrease illness-related distress and increase the use of positive coping strategies, helps children find meaning in illness, and restores a sense of self in children coping with serious illness.
Address:
3230 N Dodge Blvd Suite J
Tucson, AZ 85716
GuideStar URL:
http://www.guidestar.org/profile/20-2721500
AZ State Tax Credit Info:
No Arizona Tax Credit
Alliance Member?:
Yes
Service Areas:
International, National (US), Yuma, Yavapai, Santa Cruz, Pima, Pinal, Navajo, Mohave, Maricopa, La Paz, Greenlee, Graham, Gila, Coconino, Cochise, Apache
Love the idea of Arts in Medicine. It's amazing how something as small as a bead can bring such joy to a child. However, it's not only children that reap the benefits. This organization allows the children, their siblings, family members, caregivers, volunteers, and staff of Beads of Courage to all have joy in their heart. Kudos to you! - Margie B.

Our entire family is so grateful for Beads of Courage and the support they have shown our 10-year-old daughter. She was struggling so severely with medical procedures and anxiety. After starting her bead journey, she can physically hold and see her accomplishments, and the fear and anxiety are melting away! What a fantastic organization! You make a HUGE difference! - Kathy T.

I can't even begin to tell you how much this program has done for my son!!! He was diagnosed with stage 4 metastatic germinomas of the brain in 2009 at the age of 9. Beads of Courage gave him joy, as well as a way to show friends and family what he was going through. This program is amazing! Thank you so, so much! -- Janel P.

These are so much more than just beads. They give hope, strength and courage to not only the child going through treatment, but to us as the parents as well. It makes me happy to see that he understands what he has been through and is now willing to talk about it because of the beads. -- Ashley F.

Gigi's Beads of Courage really helped her out during her hospital stay and open heart surgery. It's a brilliant idea and a great way for little ones to see all that they have accomplished. - Chase S.