Arizona Youth Partnership (AZYP)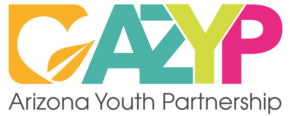 In partnership with communities, AZYP cultivates healthy foundations for youth and promotes strong families.
Show All
Matching Grants
Yes
Matching Grants Amount
$500.00
More About Us
AZYP was founded in 1990 by a group of concerned citizens who saw a huge lack of services in rural Pima County and wanted to bring more resources to these areas. Pima Youth Partnership was born in the communities of Ajo, Marana and Sahuarita. In 2006, we changed our name to become Arizona Youth Partnership and expanded to Gila, Apache and Mohave Counties bringing resources to rural communities statewide. We celebrate more than 25 years of cultivating healthy foundations for youth and promoting strong families.

Cultivate Healthy Foundations for Youth: AZYP offers evidence-based relationship education, afterschool, and youth leadership programs. Our programs equip youth to focus on life success goals and work to build healthy relationships, provide shelter services, and prevent alcohol, substance abuse and anti-social behaviors. Over the past 25 years, AZYP has grown to serve 26 school districts across 13 counties in Arizona with funding from the State of Arizona, private foundations, and federal funds. Our current youth programs include the following:
- Healthy Relationship and Sexual Risk Avoidance Education (also known as DoingItRight)
- Positive Action curriculum, Botvin's LifeSkills Training
- WakeUp! a diversion program for offending youth
- Harbor House and Providence Place residential prevention program for homeless youth in Mohave County
- Open Doors Community Preschool
- Programs that feature academic enrichment activities

Promote Strong Families: AZYP family programs offer practical knowledge, strategies and tools to build and sustain healthy marriages, parenting, and economic self-sufficiency. Our current family programs include the following:
- Stronger Families Project Funded by the Arizona Parents Commission through the Governor's Office of Youth, Faith and Family which utilizes the Strengthening Families Program for parents and youth 10-14 to increase family communication and prevent substance abuse.

Mobilize Communities through Coalitions: AZYP assists community coalitions with resources that facilitate community-wide change focused on prevention of substance abuse and underage drinking funded by a federal Drug Free Communities Grant, Arizona Dept. of Health Services, the Cenpatico Integrated Care and Health Choice Integrated Care.



Address:
13644 North Sandario Road
Marana, AZ 85653
GuideStar URL:
http://www.guidestar.org/profile/86-0669087
AZ State Tax Credit Info:
Charitable (Working Poor) Tax Credit
Alliance Member?:
Yes
Service Areas:
Yuma, Santa Cruz, Pima, Pinal, Navajo, Mohave, Gila, Apache
"My favorite Teen Outreach Program lesson was the one discussing passive, aggressive, and assertive communication styles. I was a passive communicator before and now I'm learning the tools to become assertive."

"DoingItRight Program has given me a voice to speak to other teens about the dangers of having sex before marriage. I found out that there are other people out there that feel the same way I do about this. I am not alone."

"I learned that sex is not a requirement for me and that it is safer to wait until marriage. Sex has too many consequences that I, and many other kids my age cannot handle."

"The Young Adult Development Association of Havasu (YADAH) [a coalition] conducted a 'Youth Summer' series that combined youth expression through art, comedy, poetry and music. A local city council member noted, 'YADAH has made a difference for our youth this summer!'