Anthem Pets Animal Rescue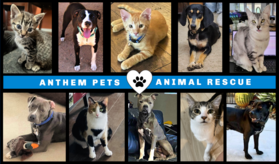 Anthem Pets is a non-profit rescue dedicated to reuniting lost pets with their owners and rescuing abused and abandoned dogs and cats. We work with committed volunteers, foster homes, local veterinarians, and trainers to assist hundreds of animals every year. We find the pets temporary foster care, provide veterinary attention and match them with loving forever homes.
Show All
More About Us
Anthem Pets volunteers and fosters are active 365 days a year. Each day our Lost & Found volunteers are either helping a resident who has lost a pet, or responding to a report of a found animal. The priority and first step is to try and reunite the pet and owner. We start by using social media to share information, pictures, and location of the lost or found pet. If a resident can contain a loose pet, we get it scanned for a microchip. If the owner isn't immediately located, we put out the request for a foster family. If the owner isn't found after 10 days the pet may be brought into the rescue, depending on issues such as temperament.

If a pet becomes our responsibility it receives a wellness check-up, is vaccinated, microchipped, and spayed or neutered. It then stays with a foster until it is adopted. Some found pets are sick or injured and we work with our veterinary partner, Daisy Mountain Vet Hospital, to determine the best course of treatment for these animals.

Because we do not have a shelter, fosters are an essential component of the rescue. While we have some dedicated fosters, we always need more. Many of these families become what we lovingly call "Foster Failures", which means they've adopted the pet they were fostering. We always need more fosters, especially during the spring kitten season!

Additionally, Anthem Pets hosts several Low Cost Clinics throughout the year, helping residents get pet vaccinations and microchips at a reduced price. Volunteers re-bag donated pet food for distribution to low income families, and importantly, they answer a Pet Hotline from 8 am to 8 pm, 7 days a week to help pet owners with a range of issues, from lost pets to emergencies.