Habitat for Humanity Tucson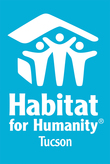 Our Mission: Creating a more compassionate and just world, Habitat for Humanity Tucson brings people together to build homes, communities, and hope.
Show All
Matching Grants
No
More About Us
Habitat for Humanity Tucson offers an innovative solution to the crisis of affordable housing by giving a hand up. We accomplish our mission by building and repairing homes in partnership with the community and with low-income families. We value inclusiveness and win/win partnerships, respect for the dignity of each person, and a commitment to deliver a strong return on the community's investment in our work.

Everyone deserves a decent place to live, and everyone can do something today to help make that possible for another family.
Address:
3501 N. Mountain Avenue
Tucson, AZ 85719
AZ State Tax Credit Info:
Charitable (Working Poor) Tax Credit
Alliance Member?:
No
Service Areas:
Santa Cruz, Pima
I have worked with Habitat for Humanity in Tucson twice now and it is an amazing experience! It is always an uplifting and humbling day. If you haven't volunteered yet, you need to! You won't regret it my friend, and the families you are helping are forever grateful to the people who made their homeownership dreams come true! James Castetter

I love Habitat for Humanity. The people are kind, caring and helpful. Habitat provided much needed repairs on my home in November. I cannot express how grateful I am for the Brush of Kindness program. I volunteer at the HabiStore on Grant Rd. There, I can show my appreciation by volunteering my time and talent to both the Habi Store, their staff members, and the public. I have learned how talented the staff is in serving the Tucson community in every way possible. ... Irma Bush

I am truly blessed to have been helped by Habitat for Humanity Tucson!!! I'm a homeowner going on two years now and it still continues to have a great impact on our lives. I have four children and you can see the pride they have in having somewhere to really call home!!! My oldest daughter refer to it as our CASTLE!!! There is no greater feeling then accomplishing the goal of owning a home, putting a roof over your family and I couldn't have done it without habitat for Humanity Tucson and all the volunteers that contributed!!! Thankyou all so much from the Heart!!!! Claudette Lopez