Big Brothers Big Sisters of Central Arizona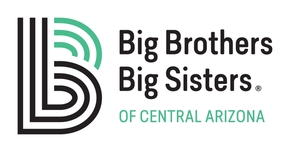 Our vision is that all children can achieve success. Our mission is to provide Arizona youth facing adversity with strong and enduring, professionally supported one-to-one relationships that change their lives for the better.
Show All
More About Us
For more than 100 years, Big Brothers Big Sisters has operated under the belief that inherent in every child is the ability to succeed and thrive in life. As the nation's largest donor and volunteer supported mentoring network, Big Brothers Big Sisters makes meaningful, monitored matches between adult volunteers ("Bigs") and children ("Littles"), ages 6 through 18, in communities across the country. We develop positive relationships that have a direct and lasting effect on the lives of young people. Big Brothers Big Sisters of Central Arizona provided caring, adult mentors to more than 1,500 kids this last year in Maricopa, Gila and Pinal Counties.
Address:
4745 North 7th Street Suite 210
Phoenix, AZ 85014
GuideStar URL:
http://www.guidestar.org/profile/86-0205254
AZ State Tax Credit Info:
Charitable (Working Poor) Tax Credit
Alliance Member?:
Yes
Service Areas:
Pinal, Maricopa, Gila
Being part of BBBSAZ as a Little Sister provided me with a friend at a time in my life when I didn't have very many. My Big Sister would come to my school to have lunch on a weekly basis and I always looked forward to walking into the library, where we met, because I knew she would already be there with our game set-up and ready to play.

One of the most important qualities a Big can have is consistency, that's something my Big Sister definitely embodied. Now as a Big Sister myself, I try to do the same. Being a Big Sister has taught me that every child in our program has a different story and a different reason for being enrolled, but the one thing they all have in common is that they are in need of an additional caring adult in their lives.

-Andrea, Current Big